OLD NEW ENGLAND COMPOSERS
[The following are brief biographies of the New England authors to the end that with their works there may go down to posterity a record, though from necessity in condensed form, of their lives and characters. It is deeply to be deplored that this attempted work was not done years ago when tradition, if not positive history, would have availed much in enlightening the obscurity that hangs over the lives of some of these benefactors.]
SUPPLY BELCHER, was born in Stoughton, April 10, 1752. Moved to Maine in 1786; established a residence in Farmington, 1791; and was agent for the Plantation in obtaining the Act of Incorporation in 1794; was the first Town Clerk. He repeatedly represented the town in the General Court of Massachusetts (Maine being a district) ; was Justice of the Peace and principal magistrate until near the time of his death. He taught the first day-school opened in the town; was celebrated throughout the State for his knowledge of music, and was called by the people the "Handel of Maine." He published "The Harmony of Maine," containing many pieces of his own composition, in 1794. Died, June 9th, 1836, leaving a good record and an honored name.
DANIEL BELKNAP, was born in Framingham, Feb. 9, 1771. He was a farmer. Put out three music books: "Harmonist's Companion," 1797; 'Evangelical Harmony," 1800; and "Middlesex Harmony," 1802. In these books are found most of his compositions. He was a poet as well as musician.
WILLIAM BILLINGS, was born in Boston, Oct. 7th, 1746. Died in Boston, Sept. 26th, 1800. By trade, a tanner; his Tannery was on Boylston Street. His residence, office, and place of business, whence his music was issued, was in Newbury Place, leading from Newbury Street, which was that part of the present Washington Street between Winter and Boylston Streets on the west, and Summer and Essex Streets on the east. Here he wrote and printed much of his music— being a printer withal—and sold the same. Over the door was a projecting sign with the words on either side: "Billings' Music/'—across which, once on a time, in derison of his compositions—
"Two furious cats, suspended by the tail, Were swinging cheek by jole."
"Not man could bear, nor demon's ear sustain The fiendish caterwaul of rage and pain."
In other forms, more gentlemanly, if not less severe, were his works criticised. In one instance, he was charged with utter ignorance of Harmony and its laws. In refutation, he produced the tune known as "Billings' Jargon," to most people always a mystery, quite inexplicable. But his works survive their critics, and are sung in grateful recollection by thousands over all the land, while forgetf ulness covers his detractors. He was an ardent patriot, and in intimate relations with the great patriot, Samuel Adams. He appreciated the power of music in popularizing a cause, and Billings was the man with the genius and zeal to write words and music that moved the hearts, and nerved the arms to strike for freedom in those early days. "Chester," among others, was a favorite rallying song at home and in the camp during the Revolutionary struggle. From what we know of Billings, and of the circumstances of the time when he appeared, it is not difficult to perceive the value of his efforts in meeting the wants of the age. He wrote with facility, and published six books of original compositions, between 1770 and 1794; the dates respectively of his first and last publications. The work he performed was a great and good one; and entitles him to the gratitude of posterity in fuller measure, doubtless, than any of his contemporaries in musical composition. Yet, -today, while it is known that he was buried in the cemetery at the foot of the Common, there is no stone or inscription to mark the spot where his bones moulder, nor is the precise spot known. May his works long live in the memory and hearts of his countrymen!
BARTHOLEMEW BROWN, was born in Sterling, Sept. 8, 1772; early moved to E. Bridgewater; graduated at Harvard University, 1799; died in Boston, April 14th, 1854. The tune, "Tilden," one of the most popular of his compositions, was written in memory of a classmate and loved friend by the name of Tilden, who died at college in the year 1800. Many others of his sacred compositions, and several of his secular pieces, will be long remembered. He wrote the calendar pages of Robert B. Thomas' Almanac for many years. He was a lawyer by profession, and poet as well as musician. Could write a song, words and music, then sing it-—a genial, popular man. In connection with A. Albee and H. Mann, he compiled the "Columbian Sacred Harmony,," in 1808.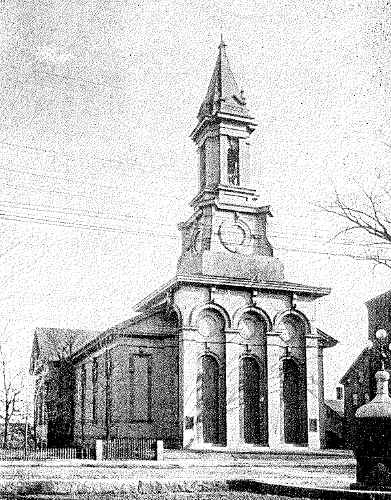 Porter Church—Brockton
OLIVER BROWNSON, a composer and teacher through New England. Author of "Select Tunes and Anthems," 1783; also, of "Select Harmony."
SAMUEL CAPEN, was born in Stoughton (now Canton), in 1745, where he died Dec. 7th, 1809. He published "Norfolk Harmony."
LEWIS EDSON, son of Obed, was born in Bridgewater, 1748; a blacksmith by trade. He probably died in New York, where he was known to be in 1824 teaching music. He and his whole family were tories, and finding it "rather hot" for them in Bridgewater, they moved to the western part of the state, Berkshire County. There he found the name for his tune "Lenox." "Bridgewater" and "Lenox" place his name in the roll of fame.
EDWARD FRENCH, was born in Stoughton (now Sharon), in 1761; was a miller, and noted for the scrupulous neatness with which he kept his mill. Was a good singer; composed "New Bethlehem"—a favorite tune. He died in Sharon, where he had always resided, in 1845.
JACOB FRENCH, brother of Edward, was born in Stoughton, July 15, 1754. He was a more noted composer than his brother; and has given to the world many compositions that bear the mark of genius, and which are sung today with interest and approval. He published "The New American Melody," 179--, 'Tsalmodists' Companion," 1793, and "Harmony of Harmony," 1802; the three containing his own compositions and a few selections from his contemporaries. But, strange to relate, "The Heavenly Vision"—the most widely known of all his Anthems—does not appear in any of them. This circumstance has led to doubt that he was the author of it. The mystery is solved and the doubt removed in the fact that he sold the Copyright to Isaiah Thomas for an edition of the "Worcester Collection," where it is found as early as 1791, but not credited to any one. When he died is cloudy. He probably moved to Northampton whence his last book was issued.
AMARIAH HALL, was born in Raynham, 1758; and died in 1827. Several of his compositions have come down to us in favor, but "All Saints New" seems to hold rank in excellence and esteem. This tune has by some been accredited to Maximillian Hall, his son, which is an error.
OLIVER HOLDEN, was born in Shirley, Sept. 18, 1765. Was a carpenter by trade; moved to Charlestown in 1788, where he spent the remainder of his life. Died, Sept. 4, 1844. From boyhood he discovered a love for sacred music which lead him, on his removal to Charles-town, to the study of music and composition. He attained a high rank as a teacher. In 1792, he published his "American Harmony," in 1793, his "Union Harmony," in two volumes, one of which contained his celebrated tune, "Coronation/' which was composed in that year.
About the authorship of the words of "Coronation," there has been some controversy. Rev. Elias Mason sets the matter at rest In the following statements : "The words for which Holden composed this tune were written by Rev. Edward Perronet, son of Vincent Perronet, vicar of Shoreham, England. The hymn was first published in "The Gospel Magazine" London, 1780; and then under Perronet's own name in his "Occasional Verses," &c, in 1785. Two years later, 1787, it appeared in Dr. John Rippon's Collection of Hymns. For this hymn, Rev. William Shrubsole wrote the tune, "Miles Lane" to which it is still sung in England. But the tune by Shrubsole is not nearly so well adapted to the stirring hymn as the "Coronation" of Holden. Holden holds an honored place among American authors.
SAMUEL HOLYOKE, A. B., son of Dr. Elizur Holyoke, of Salem, was born in Boxford, in 1771. Died in Concord, N. H., in 1816. "Arnheim," his first composition, was written when he was only 14 years old, 1785, and his first publication, "The Harmonica Americana," was printed typographically in 1791, when he was only 20 years old. In 1809, he published what he considered his great work— "The Columbian Sacred Harmony"—472 quarto pages, 750 pieces at three dollars a copy, by subscription. This, the work of his life, seems not to have added much to the author's reputation as a composer. "Arnheim," his maiden effort, was the last tune he joined in singing— the last he heard, this side the "shining shore," as sung by a party of musical friends at the house of Jacob B. Moore, Concord, N. H. He was deeply moved by the performance. In five days he was transported to the heavenly choir.
JEREMIAH INGALLS, was born in Andover, March 1, 1764; was a teacher and accomplished player on the violoncello. He published "The Christian Harmony," in 1805. Moved to Newbury, Vt.; subsequently moved to Hancock, Vt., where he died, April 6, 1838. His tune, "Northfield," alone, will preserve his name and memory.
JACOB KIMBALL, Jr., A. B., was born in Topsfield, 1761, where he died in 1826. He was a lawyer by profession. He achieved a high reputation as teacher of music, and as a poet was admitted to the honor of contributing to Dr. Belknap's popular Collection of hymns. He published "Rural Harmony," mostly original music, 1793; "Essex Harmony," 1800; and was, at one time, engaged with Holyoke in his publications. Many of his compositions are sung with pleasure today.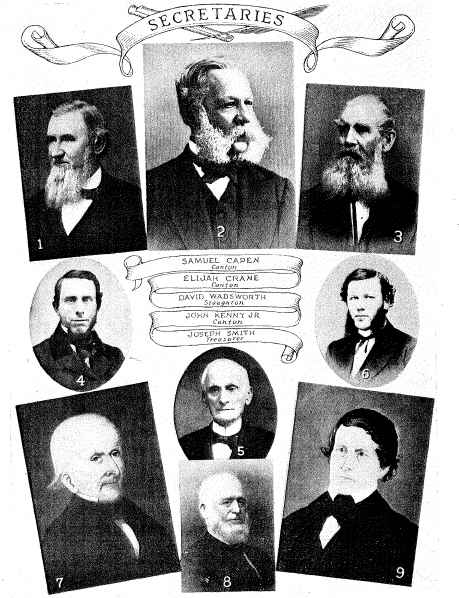 (1) Samuel W. Hodges, Stoughton (5) Alfred W. Whitcomb, Randolph; (2) Samuel Atherton, Stoughton; (6) T. W. J. Holbrook, Braintree;
(3) Charles Alden, Randolph; (7) Benjamin Capen, Stoughton; (4) Hiram S. Packard, Canton; (8) Elisha Wales Thayer, Holbrook;
(9) Abraham Capen, Stoughton


ANDREW LAW, a native of the state of Connecticut. Was a teacher of vocal and instrumental music of great celebrity. His writings and directions, touching the conduct of choirs, the performance of music and the blending of parts, would not disgrace the most accomplished conductor of today. In corroboration, see his Rules and &c, ''Select Harmony," published, 1784, by Daniel Bailey, of Newburyport. He was the first in this country to give the air to be sung by female voices. He published the first musical periodical in the country - "The Musical Magazine." He is thought to have died at New Haven, Conn., 1824.
J. LEACH, an Englishman, was born in Rochdale, England, 1762. Died in London in 1797 - killed by a stage coach. He was a counter-tenor singer, and belonged to the Queen's Band. He taught and made music; published a book of Anthems, from one of which "Knaersborough" was probably taken.
ABRAHAM MAXIM, was born in South Carver, Mass., in 1773; moved to Turner, Maine, sometime before 1800. Died in Palmyra, Me., 1829. Dropped dead in the street with Mss. of music and a Spelling Book in his pocket. In 1802, he published "Oriental Harmony," and "Northern Harmony," in 1816. He is the author of "Turner," "Hallowell," "Buckfield," &c, not John, his brother, who was a composer also, and published a book of sacred music, entitled "The World of Music." In 1840, John wrote many political songs. A portion of them was published in the "Tippe-Canoe Songster."
NAHUM MITCHELL, was born in Bridgewater (now East Bridgewater), 1769; an alumnus of Harvard, class '89. Died, Aug. 1, 1853, at Plymouth on the occasion of the celebration of the anniversary of the departure of the Pilgrims from Delph-Haven—dropped dead on the sidewalk. He commenced the composition of music at an early age, and wrote many excellent pieces which will be long remembered and sung; and he still further endeared himself to posterity in his efforts as a compiler. He filled with becoming dignity the office of Judge of the Court of Common Pleas, and served the State for a term as Receiver-General and Treasurer; all with honor to himself and the Commonwealth.
----- MORGAN, was a resident of Randolph, Vt. Author of several popular Psalm Tunes, better known, however, through the celebrated breed of horses that bears his name, than for his musical productions, though his tune, "Montgomery," enjoys great popularity among lovers of the "Old Music."
HENRY KEMBLE OLIVER, was born at Beverly, Nov. 24, 1800. Early in life he displayed a deep love of music and ability to perform with the voice and upon instruments; subsequently received a good reputation as Church Organist. "Federal Street," was his first composition, and was written in 1832. He has written much music and published several collections - one exclusively his own composition - and his ability as a composer, of pleasing style and correct harmony, is generally recognized. He was Mayor of the City of Salem, where he resided for many years, having filled other offices of trust and responsibility to the benefit of his fellow citizens.
DANIEL READ, was born in Rehoboth, 1757 ; died, 1836. He was a comb manufacturer, and had his business in Hartford, Conn.; was an accomplished music teacher and a felicitous composer. Many of his tunes have come down to us with the freshness of youth, and still fascinate with the beauty and graceful flow of their melodies. He published "Am. Singing Book" in 1771, "Columbian Harmony," 1793, and the "Litchfield Coll.," 1806.
ZEDEKIAH SANGER, son of Daniel Sanger, the Tavern Keeper, was born in Framingham, July 27, 1771; lived in Albany, N. Y., for a time, keeping a store there. He was always fond of music. Was a good singer and an excellent flute player; kept singing schools when only 19 years of age. He, with others, published the "Meridian Harmony," 1808, printed at Dedham, by H. Mann. Moved with his family to Boston, 1813, where he died in 1821.
WILLIAM SELBY, a prominent organist of his day - performed at Kings Chapel, Boston. He is principally known through his celebrated anthem called "Selby's Anthem," performed at the opening of the "Old South Meeting House;" wrote an anthem on the occasion of Washington's visit to Boston, Oct. 27, 1789. and several others of less note.
DEA. JEZANIAH SUMNER, was born in Taunton, 1754; died, Aug. 20, 1836. He is the author of the well-known and still popular anthem, "Ode on Science," both words and music, which he wrote in 1798, on the occasion of the first exhibition of the Bristol Academy, Taunton, dedicating it to the Principal, Rev. Simeon Doggett. It was also sung at the dedication of the new Academy edifice, about 1848.
TIMOTHY SWAN, was born in Suffield, Conn., July 23, 1757; died in Northfield, Mass., July 23, 1842. He was a hatter by trade. His name stands emblazoned in glory in his "China" and "Poland.|" His other compositions are not few or without merit, but his fame has sure anchorage in the former. He published his "Federal Harmony," 1788, the "New England Harmony" in 1821.
THOMAS TEMPLE, was born in Orange, Mass., in 1770; was graduated from Dartmouth. He married the half sister of the late Seth Mann, of Randolph, and settled in Dorchester; keeping a store at the "Lower Mills." He afterwards moved across the river into Milton, where he died in 1815. He was an excellent teacher, a ready writer, and author of several school books: among them, "Temple's Arithmetic," which had an extended use and popularity. He was the author, also, of several singing books, in which, and other collections of the time, are found his compositions, breathing a delicate sense of musical beauties. His advertisement in rhyme,—recently republished,—of the goods he kept for sale, 1798, is a rare specimen of poetic art and rhyming, while it displays in ludicrous commingling the almost endless variety of articles kept in a country store in the early days of the Republic.
CAPT. ABRAHAM WOOD, was born in Northboro, July 30, 1752; married Lydia Johnson, daughter of Eleazer and Elizabeth Johnson, of Berlin, 1773; died in Northboro, August 6, 1804. At the breaking out of the Revolutionary war, he was elected Clerk of the company of Minute Men, of which his older brother was Captain. He marched with his company to Cambridge, the Head Quarters of the Army. As an example of the deep interest the women took in the great struggle, it is recorded that his young wife sat up the entire night previous to the departure of the company, and melted her "pewter ware" into bullets, to be fired at the British, The soap-stone moulds used on the occasion are yet in possession of the family. Capt. Wood was Chorister of the church for many years, and a musician of note, and the tunes he wrote attest his genius as a composer. Moore says: "Wood published a music book entitled "Divine Songs," in 1789, and later in connection with Joseph Stone, of Auburn, published "Columbian Harmony:"