BIOGRAPHICAL SKETCHES
Biographical Sketches—Present Officers
JOSEPH BELCHER, school principal and public speaker, was born in East Randolph, now Holbrook, Mass. He is a direct descendant, in the eighth generation, from John Alden and Priscilla Mullins. His father, Caleb Belcher, was a bootmaker, a man of kindly disposition, genial, generous and honest, who believed in accommodating his neighbors and friends in any manner which opportunity offered, so far as his resources and ability permitted. As a result, he was poor in money but rich in good deeds.
His mother, Julia (Hollis) Belcher, was a woman of strong religious principles, but who seldom talked with her children intimately on the subject of religion. She taught them to apply themselves faithfully to their Sunday School lessons, and held them to the old-fashioned, strict observance of the Sabbath.
His teaching career began in February, 1878, when he taught for two terms in Bridgewater. From there he went to Essex and taught in the Essex Falls school for three years. He then returned to Randolph as principal of the North Grammar School, (which was later named the Belcher School in his honor), in which capacity he served faithfully for 34 years.
In 1915, he became a member of the Massachusetts House of Representatives, and for two years represented his district, which comprised the towns of Randolph, Stoughton and Sharon. After this, Mr. Belcher held the office of Town Auditor, member of the School Committee and State Income Tax Assessor in charge of the fourth district with office in Brockton. He has also served as Moderator of Town meetings in Randolph several years. He has won recognition as a public speaker and delivers many addresses before the Men's Clubs of various churches, at Odd Fellows' and patriotic celebrations, these being his special choice of audiences, although he has delivered some very interesting sermons as a supply in churches and has given many political addresses.
He is a Trustee of the Odd Fellows' Home in Worcester, Mass.; Past Grand Master of the Independent Order of Odd Fellows of Massachusetts; an ex-President of Norfolk County Teachers/ Association; a member of the Norfolk County Republican Club, and President of the Alden Kindred of America, Inc. He is a member of the Winthrop Congregational Church of Holbrook, and Chairman of the Randolph Chapter of the American Red Cross.
On April 21, 1878, he married Annie M., the daughter of Daniel and Maria (Nichols) Wilde, of Randolph, Mass. One child was born of this union, a son, Wade Carlton, who died during his third year at Harvard College in the twentieth year of his age.
Although having but little musical talent, Mr. Belcher is extremely fond of music, particularly the old music that his mother loved. It is not strange, therefore, that he regularly attended the neighborhood "sings" as well as the concerts given by the Old Stoughton Musical Society, nor that he joined this Society as a young man and has been an interested, working member for nearly 50 years.
In 1909, he was elected President of the Society and served in that capacity for two years. He was again elected to serve from 1917 to 1921. Upon his retirement, he was elected President Emeritus.
DR. ERNEST BENT, born in Bellingham, Mass.; graduate of Brimfield Academy, Brimfield, Mass., and Baltimore College of Dental Surgery, Baltimore, Md. Practiced five years in Grafton, Mass., then went to Braintree and has been practicing there for the past thirty-five years. Member of Braintree Choral Society and Director of choir in First Congregational Church in Braintree fifteen years; also Chairman of Music Committee. Joined the Old Stoughton Musical Society in 1898; elected President 1928.
ARTHUR JUDSON COLE, M. D. Now living in Holbrook. Born in Lynn, Mass., June 10, 1872, son of Rev. C. H. Cole and Marianna B. (Smith) Cole. Graduated in medicine, practiced in Rhode Island. Studied in Vienna. Settled in Holbrook in 1911. Member of Norfolk County Medical Society, Fellow of Massachusetts State Society, member of American Medical Association. Life member of American Medical Association of Vienna and Austria. Chairman of Board of Health of Holbrook; owner and operator of Elmhurst Sanitarium. Joined the Old Stoughton Musical Society in 1921. Elected Vice President in 1928.
RALPH KINGSBURY CORLISS, was born in Randolph, July 2nd, 1880, and was educated in the public schools of Randolph; also took special work at the Emerson College of Oratory; also studied the piano with Allen H. Daugherty, and the voice with the late George J. Parker and Charles Stevens, all of Boston. Is a charter member of the Porter Choir of the Porter Congregational Church of Brockton; was elected Vice President of the Old Stoughton Musical Society to represent Randolph, Jan. 1st, 1928.
FRANK WALES CRANE, was born Feb. 4, 1866, in E. Stoughton and from early manhood was connected with the Avon Baptist Church; for many years served as Chorister of the Choir and also as Clerk of the church, and other offices. He was Chief Clerk of the Brockton Heel Co. nearly 20 years (until his death). Also was officially connected with the Avon Co-operative Bank; was a 1st tenor in the Male Chorus of Old Stoughton Musical Society, and also in the Oratories given by the Brockton Musical Festival Association. He joined Old Stoughton Musical Society in 1888 and was a constant attendant of late years; was Director when he died in 1928.
SAMUEL MINOT CRANE, born Feb. 5, 1846, in E. Stoughton; was connected with the Baptist Church in 1864; also 17 years with Brookville Church, being Superintendent of Sunday School over 15 years; was with the Elm Hill Baptist Church, Roxbury, 10 years, and a Deacon for the last five years before returning to the East Stoughton (now Avon) Church, and a Deacon for 17 years. United with Old Stoughton Society in 1874, but not a regular attendant until after 1900. Has been Vice President since 1926. Is a G. A. R. member of Post 193 (one of three left) and one of two living charter members of Post 72, G. A. R., of Stoughton (the other being Henry Monk, of South Braintree). He is Senior Vice Commander of Norfolk County G. A. R. Association and Treasurer of 43rd Mass. Regiment Assoc.
GEORGE SAWYER DUNHAM, born in Brockton, the son of Frank and Hattie (Sawyer) Dunham. After graduating from the High school, he attended the New England Conservatory of Music, graduating in 1897, Teacher's course, and as concert organist, with honors, in 1899. His teachers were: organ, Henry M. Dunham; harmony, Dr. Percy E. Goetchins; composition, George W. Chadwick. Later he took courses at Boston University in connection with Post Graduate work at the Conservatory. He studied two summers also, under Isidor Philipp in Paris.
He was organist at Hingham, Charlestown, Campello, Newton Centre, and Brockton. Instrumental in organizing the Brockton Choral Society; was Secretary and Pianist for nine years. Has conducted Choral Societies in Quincy, Plymouth, Whitman, Bridgewater, Newton Centre, and Boston, besides those now under his baton, viz, The Brockton Musical Festival Chorus; Keene, N. H., Choral Club; Fitchburg Choral Society; Choral Art Club of Brockton; Lasell Orphean Club; Massachusetts Federation Women's Clubs' Choral Society; Old Stoughton Musical Society; head of Music Department, Lasell Seminary, Auburndale; organist Porter Congregational Church, Brockton; conductor People's Choral Union of Boston for seven years.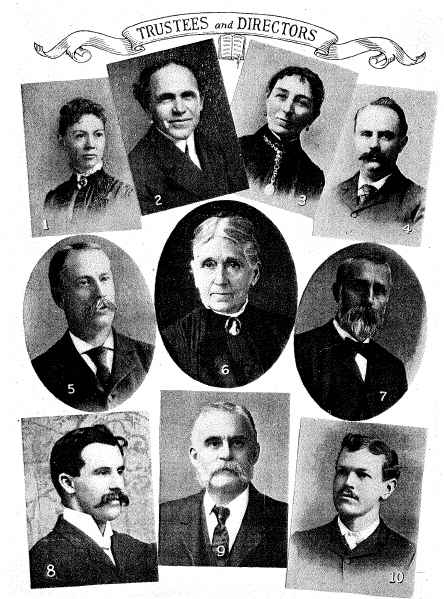 (1) Mrs. Charles A. Belcher, Braintree; (2) Rev. Louis J. Richards; (3) Mrs. O. H. Randall, Brockton; (4) Charles A. Belcher, Braintree; (5) Azel R. French, So. Braintree; (6) Miss Harriet C. Billings, Sharon; (7) Kilburn R. Clifford, Stoughton; (8) Norman Shaw, Brockton;
(9) Daniel B. White, Randolph; (10) George E. Shepard, No. Easton.


HELEN DUNHAM ELLIOTT, born in Brockton, Mass., 1872; daughter of Isaac A. and Augusta (Packard) Dunham; grand-daughter of Nathan Packard; a former Chorister of Old Stoughton Musical Society; sister of Frank A., Henry M., Walter C., and William H., all prominent in the musical world. The present conductor of Old Stoughton Society, George Sawyer Dunham, son of the late Frank A. Dunham, is her nephew.
Graduated from New England Conservatory of Music in 1894; three years later, married Dr. Richard A. Elliott, a native of Quincy, Mass.; six children born, only one of whom lived to manhood. He was Brooks Elliott, a promising baritone soloist; sang at the annual concert of the Old Stoughton Society two years prior to his untimely death in 1922. Mrs. Elliott makes her home in Avon, which was originally a part of the old town of Stoughton.
MISS C. LOTTIE FRENCH, was born in Brockton and has a lively interest in our organization. As a child, she was taught some of the old music by her grandfather, Capt. Henry French, a vocal teacher. Miss French has kept her interest in music, having been associated with the Brockton Choral Society, which gave a number of oratorios and operas. She has been a member of the Porter Church Chorus for a long time and is a member of the Woman's Club Choristers and the Brockton Musical Festival Association.
Miss French joined this Society in 1920 and became Vice President in 1927. Her summer home in Onset and wintering in Florida prevent a closer connection with the Society's activities.
EDWIN BRONSDON GAY, librarian of the Stoughton Musical Society and librarian and treasurer of the Musical Society in Stoughton ; was born in Stoughton, Mass., in 1852, the son of Edwin Gay of Stoughton, and Rebecca (Bronsdon) Gay of Milton, Mass. He received his schooling in private, public and High schools of Stoughton, after which he worked with his father as a carpenter; later, he was in the employ of the railroad company for several years, and is now retired. Has been a member since 1875 and librarian since 1920.
MACE GAY, of Brockton, Mass., cornetist and trumpeter, instructor, conductor of the famous Martland Brockton Band, publisher of Band and Orchestra music and Instrumental Solos, was born in Stoughton, Mass., April 28th, 1855. At the age of seven years, he removed with his parents to Milford, Mass., residing in that town eight years; removed to Randolph, Mass., where his father had accepted the office of Warden of the almshouse. After completing his school days, Mr. Gay was apprenticed to a carriage manufacturer. Here he began his musical career by borrowing from his employer, during the noon hour, a Boston musical side-action cornet. After learning the scales, he decided to procure a cornet and take instructions from the late Henry C. Brown of Boston, a noted cornet soloist and teacher of same. Mr. Gay profited by his tuition and was induced to join a newly formed amateur band that was organized at the West Corners, Randolph. With a competent instructor from Boston, the band made great progress, so much so that at the next Memorial Day they were engaged to play for the A. St. John Chambre Post, G. A. R., of Stoughton, doing a satisfactory "job," with much credit to the band. Aside from his activities as publisher, Mr. Gay put in a long term of years playing with the George W. Porter Orchestra of Brockton, which was very busy at social and dance engagements during the dance season in Brockton and surrounding towns.
In 1875, Mr. Gay received a call to play solo cornet with Boston Cadet Band, which he accepted and filled four years, playing at the celebrated summer resort at Nantasket Beach, Mass., and other engagements. In 1877 he accepted the leadership of The Martland Brockton Band, which he conducts at the present time. He completed 50 years of service on October 2nd, 1927.
During his career as cornetist, he took part in a "Cornet Soloist Contest" at Nantasket Beach, sponsored by the late D. W. Reeves, of Reeves' Band of Providence, R. I., assisted by Dodworth, celebrated band of New York. Of seven contestants, Mr. Gay was awarded first prize of a silver-plated Hingham cornet, valued at seventy dollars, as offered and awarded in the contest. It was a memorable epoch in his life.
Mr. Gay has a membership of a long term of years in the Old Stoughton Musical Society, having joined in 1873, playing in the orchestra. They were the happiest times in his career and will never be forgotten.
After the passing of Mr. Edwin A. Jones, leader of the Old Society Orchestra, the leadership almost automatically fell to Mr. Gay and in these later days the Society owes much to his service and always ready willingness to serve.
MRS. LAURA CAROLINE (SHAFER) GEBHARDT, has lived in Stoughton, Mass., since 1917, when she went there with her husband, William C. Gebhardt, a member of the Boston Symphony Orchestra. She was born in Syracuse, N. Y., in 1885. She was educated in the public schools there and was graduated from the Syracuse University with a degree of Master of Music. Mrs. Gebhardt has had a broad musical education, having studied the theory of music, as well as harmony. She is the organist of the Congregational church in Stoughton, Mass., and many local children and adults are numbered among her pupils.
It was while playing in a musical festival in her native city of Syracuse that she met Mr. Gebhardt. They were married in 1907 and lived in Boston for 10 years before going to Stoughton.
MERRIT A. GODWIN, born in Brookville, Mass., Feb. 7,1883, son of Allen L. and Ellen A. (White) Godwin; attended public schools in Holbrook, Avon and Brockton; apprenticed in electric motor and other electric repair work in 1900; at present a motion picture projectionist. Always interested in music, particularly singing, having been a member of the former Brockton Choral Society, the choir of the New Jerusalem Church in Brockton; also Bridgewater, the M. E. Church of Rockland, Maine, the Maine Festival Chorus and the Brockton Musical Festival Association. Became interested in the Old Stoughton
Musical Society and became a member in 1898; appointed to the Board of Directors in 1928 to take the place left vacant by the late Frank Crane of Avon.
GEORGE RICHMOND, born in Nottingham, England, Oct. 7, 1842, one of fourteen children. Served six years as apprentice in lace manufacture and when the Civil war broke out the lace trade in England became paralyzed, as much cotton was used in the product, and he came, in 1866, to Stoughton to work with the machinery with which he had been accustomed in Nottingham. After proper length of time, he became a United States citizen. He has been associated with the Methodist Church, and sang in choir over fifty years, much of the time its Chorister.
Mr. Richmond joined the Old Stoughton Musical Society in 1875 and has been a faithful attendant at most of the meetings since. He has been actively employed up to 1926. He was elected Director in 1908 and served to 1910; re-elected in 1920 and is still deeply interested in the organization.
ERNEST B. SOUTHWORTH, son of Gurdon and Sarah (Staples) Southworth, was born April 18, 1872. He was educated in the public schools and Bryant and Stratton's Business College. He entered the Stoughton Rubber Company's office and rose to Superintendent of the factory, which office he held until 1909, when he became associated with the George E. Belcher Last Company, and is its present Vice President and manager.
Mr. Southworth is a member of the Bay State Commandery, Treasurer of the Stoughton Masonic Lodge, filling the place of his father; President of the local Musical Society in Stoughton, and one of the Board of Registrars. He takes a lively interest in the big affairs of the town and without his keen interest and encouragement, his business ability as director, the publishing of this history would have passed on to coming generations. Mr. Southworth became a member of this organization in 1902 and was elected Vice President in 1926.
The predominating avocation of Mr. Southworth is his love and enthusiasm for music. As an instrumentalist in the E. A. Jones Orchestra, he was for years prominent and through all the time since he first became a member of the Old Society, his interest and enthusiasm have always been helpful.
MAYNARD C. THAYER, was born in East Randolph (now Holbrook) Sept. 30, 1852. Attended the High School, class of 1871. Mr. Thayer has spent the greater portion of his life in the shoe trade, holding several important positions in Massachusetts and New Hampshire. He has always taken a great interest in music and sang in the Congregational Choir as long ago as 1872. Joined the Old Stoughton Musical Society in 1875, of which his father before him was a member, having united with the Society in 1852. Besides music, he has taken a marked interest in antiques, of which he has a large collection. He is a member of the Holbrook Historical Society, the Scituate Historical Society, the Brockton Musical Festival Association, the Winthrop Congregational Choir, and has held office in town affairs.
MRS. AGNES (SUTHERLAND) YOUNGSON, was born in Dundee, Scotland, and came to Brockton in 1906. She has always been interested in music; before coming to America she sang in musical organizations in Dundee. On June 28, 1906, she married John Youngson of Brockton. Mrs. Youngson is at present in the Porter Church Choir where she has assisted for twelve years, and an officer of the Brockton Musical Festival Chorus. She joined the Old Stoughton Musical Society in 1920 and is one of its directors. Mrs. Youngson is a sister of W. B. Sutherland, organist of the Presbyterian Church, Brockton.